Panasonic Blood Pressure Monitor Reviews
Covering Panasonic blood pressure monitor reviews of models EW3109W, EW3153W and EW3152A
Panasonic blood pressure monitors are a formidable force on the home blood pressure monitor market alongside Omron, Lifesource, Relion, Lumiscope, Samsung and others. Panasonic as a company is involved in the manufacture of other electronic products not only related to hypertension but also other personal and health care electronic products. The following are independent reviews of Panasonic models EW3109W, EW3153W and EW3152A based on aggregated user opinions and reviews from different sources and our own opinion. (This site is not paid or influenced in any way by any interested party in doing these reviews).
Panasonic Upper Arm Blood Pressure Monitor EW3109W Review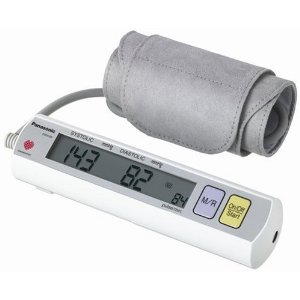 Selling for about $70.00 on internet stores, the Panasonic EW3109W
W is an automatic arm pressure monitor. It is well known for its digital filter technology which is designed to eliminate extraneous noise thereby in theory ensuring accurate readings or blood pressure numbers. The monitor has a 90 memory recall. This means it can track your last 90 readings which is useful in establishing a trend and arriving at an average reading.
The monitor itself has a baton-style design which makes it extremely portable. This is a big plus for many users. It has a flashing warning system designed to alert the user of hypertension or excessively high blood pressure readings. Some consumers celebrate the monitor's easy to use style only requiring a one-touch auto-inflate pressing of button. The Panasonic blood pressure monitor EW3109W comes with a carrying pouch and 4AA batteries.
Sold separately users can purchase an AC adapter and extra large cuff sizes of 17". This model comes with a 2 year limited warranty. The monitor can measure up to 280mmHg of both systolic and diastolic pressure starting at zero. Measurement accuracy is within plus or minus 5 percent. Consumers praise the EW3109W model for being extremely quiet whilst in operation. It also impresses due to the non-conventional cuff design which is comfortable and easy to slide over your arm.
Some users have complained of the unit being heavy. However overall it received an aggregated positive review from nearly 100 users. We give it four stars out of five. It represents money well spent.
Panasonic Blood Pressure Monitor EW3153W Reviews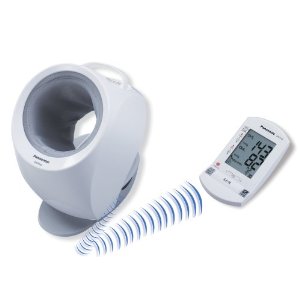 The Panasonic EW3153W upper arm blood pressure monitor is a unique blood pressure machine from Panasonic. Selling for about $160.00 online, the device has two units namely the main unit with the cuff and the display unit. These two units form the monitor and communicate wirelessly by infrared signals. The display unit can be placed away from the main unit where one can easily see its readings.
The infrared signals are sent from the main unit and bounced off the display unit to give you systolic, diastolic and pulse rate readings. The EW3153W Panasonic blood pressure monitor is capable of showing the irregular pulse function on the 7/8 inch LCD display. Of particular note is how this monitor differs from other monitor cuffs. It has tube type of cuff were you insert your arm as shown in the picture. This is known as the sleeve. This makes the monitor bulky and prohibitive when considering traveling with it.
User feedback and reviews show that the monitor is given thumbs up on the basis of its accuracy, speed and convenience. Some users have even claimed putting away their Omron monitors in favor of this particular monitor. Omron monitors are considered best monitors. Users are impressed by two particular features found on the monitor. The wireless display mode and movable elbow support during inflation and deflation. This particularly gives incorrect readings on other monitors due to hand movement.
This is a great item which has impressed even registered nurses apart from tens upon tens of users and patients. It is a recommended buy and we give it five out of five stars.
Panasonic Blood Pressure Monitor EW3152A Review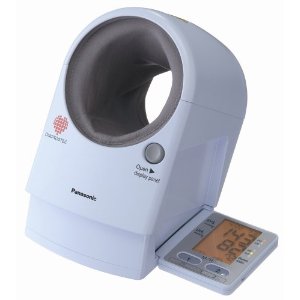 Selling for just above $100.00 on the internet, the EW3152A  upper arm blood pressure monitor by Panasonic is lightweight and portable. The monitor uses advanced technology called Digital Filter Technology (DFT) which isolates noises that can distort readings. This gives accurate and reliable measurements. One of the key causes of inaccurate readings when taking blood pressure is movement.
The EW3152A lights up if you make movements during a reading and will not proceed until one is still. The monitor has an automatic memory feature which permits different individuals to keep their readings. This keeps track of your blood pressure trend. Yet another important feature of the EW3152A Panasonic blood pressure monitor is the color confirmation system. This helps ordinary users to interpret their results. The three color system lights up when its a normal reading of under 119mmHg, prehypertension (over 120 to 139mmHg) and hypertension (over 140mmHg).
This could particularly be stage 1 hypertension or stage 2 hypertension. These color lights are shown for each reading i.e diastolic reading and systolic reading. Just as the Panasonic EW3153W, aggregated user experience and reviews gives a resounding thumbs up for the Panasonic EW3152A. It is praised for its ease of use, accuracy and portability. Some doctors have confirmed its accuracy measured side by side with doctor's office blood pressure machines.
Users have also noted that the best price enjoyed for the monitor was through Amazon website. Based on aggregated user reviews from various sources we give this monitor a four and half out of five. It also falls into our recommended buy category.
Return To Blood Pressure Equipment from Panasonic Blood Pressure Monitor


Return To Blood Pressure Home from Panasonic Blood Pressure Monitor

Disclaimer
Information contained on this website is not meant to replace your doctor's advice.
(c) All Rights Reserved. 2010-2018