Omron Blood Pressure Monitors - Accurate Blood Pressure Monitors
Covering Omron blood pressure monitors for home use, reviews and price
Whilst information in this article might be useful in understanding a particular brand of blood pressure monitors, it is equally useful in understanding a whole range of other blood pressure monitors available on the market today.
The Omron digital blood pressure monitor was launched in 1973 as the only digital blood pressure monitor on the market. Since then Omron Healthcare Co Ltd the Japanese based manufacturer (with offices around the world) has produced hundreds of Omron blood pressure monitors in different models. In 2009 the company reached the 100 million milestone of monitors sold worldwide.
Just like many other brands such as Mabis, Samsung, Panasonic, Microlife and Relion; Omron commands a huge following and is amongst the best and trusted blood pressure monitor brands available today. It is equally advancing in technology in much the same way as the best dlp projectors. Amongst other things the most important consideration of any given blood pressure monitor is its ability to produce doctor's office type of accurate results. In other words the same accurate results you would get when you visit your doctor should be possible even with home blood pressure monitors. This is what makes any monitor worth its salt, relevant and useful for daily health management.
Doctors and hypertension specialists in general are particularly sensitive to the ability of home blood pressure monitors to produce accurate results as home measurement of blood pressure is critical to an effective treatment of hypertension. Daily blood pressure monitor readings can be combined with a hypertension diet to ensure one has high blood pressure in control.
Amongst its various models of blood pressure machines, Omron has what are known as Omron automatic blood pressure monitors, Omron wrist blood pressure monitors and Omron digital blood pressure monitors. Most of the Omron blood pressure monitors fit all these specific details of the devices.
In the world of Omron blood pressure monitors and certainly regardless of brand, there is a concept known as validation. This is a process of ensuring that any blood pressure measuring device or equipment offered on the market meets certain specific standards set by internationally recognized institutions such as the British Hypertension Society (BHS), the European Society of Hypertension (ESH) and the Association for the Advancement of Medical Instruments (AAMI).
This is important to the user to know if results and purposes of the purchase of a piece of blood pressure equipment is ever to be worthwhile. Most top competing brands on the blood pressure monitoring and measurement market meet these standards. It is however absolutely important for users to verify this information before making a decision to purchase any particular brand.
In the United States the FDA sometimes also puts endorsement to certain blood pressure monitors. Specific Omron blood pressure monitors have received endorsement from the FDA. However, in general most reputable manufacturers make an effort to meet the standards of that particular market before attempting to sell a device. The following Omron blood pressure monitors models have been clinically validated by either the BHS, ESH or AAMI. As the following Omron table will show Omron did validations of selected models for use with specific patient populations. Even though these models can be used by people outside of these groups its comforting to know they are tested and validated for your specific group;
| | |
| --- | --- |
| Model | Specific Patient Population |
| Omron HEM 670IT | Obese Adults and elderly |
| Omron 7300W | Women with preeclampsia |
| Omron 7300IT | Women with preeclampsia |
| Omron HEM-711AC | Children and adolescents |
| Omron HEM 705 CP | Children and adolescents |
The following is another list of clinically validated Omron blood pressure monitors sold in the USA indicating which protocols of validation they meet and the average price of each in the United States. Doctors and pharmacists also use these particular different models even when implementing hypertension guidelines. After the summary table selected Omron blood pressure monitors are reviewed in full.
| | | | | |
| --- | --- | --- | --- | --- |
| Model | ESH | BHS | AAMI | Average Price |
| Omron HEM-790IT | NO | NO | YES | $90.00 |
| Omron HEM-780 | Yes | NO | YES | $70-$100 |
| Omron HEM-711 DLX | Yes | NO | YES | $60-$100 |
| Omron HEM 705 CP | Yes | Yes | YES | $65-$100 |
| Omron HEM-711AC | Yes | Yes | YES | $45 -$60 |
| Omron Elite 7300W | NO | Yes | YES | $65-$100 |
| Omron HEM-7300IT | No | Yes | YES | $45-$100 |
| Omron HEM 432C | Yes | NO | YES | $24-$60 |
| Omron HEM-650 | Yes | NO | YES | $49-$70 |
| Omron HEM-637 | Yes | NO | YES | $70-$100 |
| Omron HEM 629 | Yes | NO | YES | $45-$60 |
| Omron HEM-609 | Yes | NO | YES | $44-$70 |
Omron Blood Pressure Monitors Reviews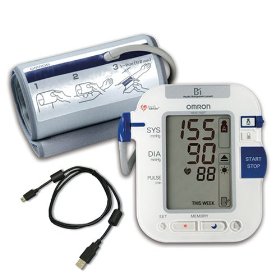 Omron HEM-790IT
Avg Price: $90.00 Morning hypertension is an important indicator for elevated stroke risk. In the USA the HEM-790IT model has been cleared by the all important FDA to play a useful role in detecting morning hypertension. This it does in addition to detecting irregular heartbeat. The device is delivered with ComFiT (TM) cuff for arms 9" to 17". For health reasons these blood pressure cuffs may not be returned. To ensure the all important doctor's office accurate readings even at home the Omron HEM-790IT comes with the patented intellisense technology.
Users of this model on Amazon and other webstores have in a big way generally given the device a thumps up with some doctors even recommending it to their patients. Some users have noted minor variances in blood pressure numbers or readings attributable to blood pressure fluctuations and slight errors in measurement.
Some blood pressure patients have also complained that the HEM-790IT health management software that is delivered on board is difficult to use for first timers despite the accompanying manual.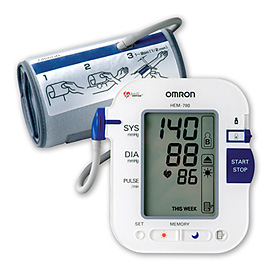 Omron HEM-780
Avg Price: $70-100 The Omron HEM-780 like the HEM-790IT has also been cleared by FDA as a reliable and acceptable morning hypertension detector in addition to detecting irregular heartbeat. The accompanying intellisense monitor automatically inflates the cuff to the ideal level with each use. The large digital panel on the 5.16x3.31x6.09 (WxHxD) device displays blood pressure readings and pulse readings.
This particular model of Omron blood pressure monitors allows a 90-memory recall which is handy for tracking your blood pressure and pulse progress over a period of time say a week or a month. The device is supplied with an AC Adapter, storage case, ComFit cuff 9" to 17" four AA batteries and an instruction manual.
The HEM-780 has generally received very good reviews and feedback from both patients and doctors. On top of the praise list is the accurate readings and missing yet dreaded wild swing readings. This naturally makes it a favorite for physicians who are keen on accurate blood pressure readings at home in order to reign in hypertension in patients. The hypertension monitor has also received recognition from users for impressive durability. However, some users have given negative feedback on the model on account of what they consider a stiff cuff which is inflexible. Improperly worn cuffs will cause false or inaccurate readings. Some patients have also reported high diastolic readings on the Omron HEM-780 compared to manual blood pressure monitors.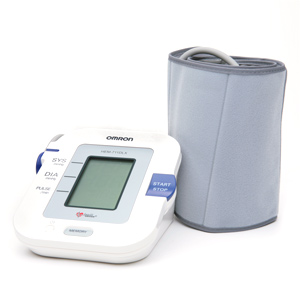 Omron HEM-711DLX
Avg Price: $60-100 This particular model like other Omron blood pressure monitors also meets ESH and AAMI standards and is recommended for hypertension measurement. In 2004 the American Heart Association (AHA) also gave its backing for the HEM-711DLX as an effective and accurate instrument for measuring blood pressure at home.
The device has the patented intellisense ComFit Cuff of 9" to 17" sizes. Unlike the more recent models such as the HEM-790IT reviewed above, this one comes with no health management software which many HEM-790IT users have found very useful. by the way the difference in prices of the two is not miles apart. As has become the norm with Omron blood pressure monitoring products this particular model also has large digital display and measures blood pressure and pulse.
The Advanced Averaging technology on this blood pressure monitor automatically displays the average of up to 3 readings taken in the last 10 minutes. This is very useful in blood pressure management. The monitor is also recommended by pharmacists and doctors for this reason apart from its ability to detect irregular heartbeat and that it stores the last 60 measurements and blood pressure readings can be compared to the guidelines recommended by the AHA.
Advanced sensors on the monitor also detect excessive body motion during blood pressure measurements therefore guarding against distorted results. Patients who have used this monitor also gives it a very positive thumbs up in general. It has been reviewed by patients of average health, the elderly, athletes, and medical professionals who have hypertension. Users appreciate its nice features and angled design allowing easy viewing. Complaints against this blood pressure monitor have been mostly to do with the cuff failing to fit in some cases. This has forced affected users to inconveniently buy larger fitting cuffs. This monitor can be viewed on Amazon as well.
Omron HEM-711AC
Avg Price: $45-$70 The HEM-711AC is amongst the Omron blood pressure monitors also validated by ESH, BHS and AAMI. The monitor is also specially validated for use with children and adolescents amongst other patient population groups. It comes with the custom intellisense technology for clinically proven accurate readings. It measures the systolic blood pressure and diastolic blood pressure in addition to your heart's pulse rate. It also detects irregular heartbeat which is an important indicator of possible cardiovascular disease.
The cuffs it is supplied with is designed to naturally conform to the natural contours of your arm. The software in the Omron HEM-711AC takes into account fluctuations in a persons blood pressure during the course of the day.
This hypertension monitor has been used by disabled people, average health people, senior citizens, the elderly and medical professionals who all think it is an accurate instrument, easy to use, giving a quick reading and with a quite operation. However some have noted wit concern and regret that the supplied 13" cuff does not fit some members of the family.
Some Omron HEM-711AC feedback verbatim from users;
"Most easy to use and accurate. It is truly Doctor Recommended. When my cardiologist advised me to take BP daily at home, I asked him what kind of BP measuring instrument should I buy. He answered, "Omron"" - by shobansen, in Cambridge, MA.
"If you have arthritis in your hands or live alone it is much easier to use than the monitors with the bulb that had to be pumped to inflate the cuff"- by Golfer, in California .
"I wish there were a way to hold the arm band in place while tightening it as it moves when I pull the strap toward the velcro" - by Caroclara, in Boston, MA.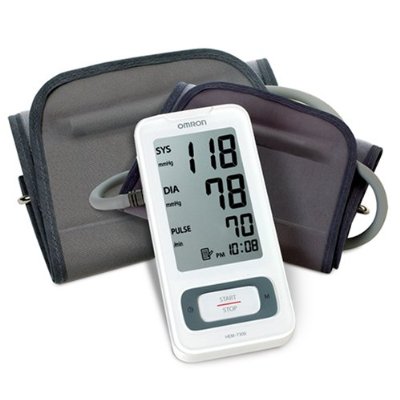 Omron Elite 7300W Women's Advanced Blood Pressure Monitor
Avg Price: $60-$100The Elite 7300W is an ultra thin design made with modern active and stylish women in mind. Of all Omron blood pressure monitors the 7300W is the only one supplied with two cuffs at the same price namely the regular fitting 9" to 13" cuff and large sized 13" to 17" cuff. This is to ensure a proper comfort fit for any group of women including pregnant women and adult men. Omron specially validated the 7300W with BHS and AAMI taking into account the needs of women with preeclampsia.
This Omron blood pressure monitor has three specific alerts on potential health problems in its users namely a hypertension indicator for when blood pressure exceeds AHA guidelines for normal blood pressure, when there is excess body motion that might distort results and an alert for irregular heartbeat associated with cardiovascular diseases. The Omron Elite 7300W is recommended by doctors and pharmacists and comes with a 5 year warranty.
The display on this monitor as shown in the product picture above is very large easy to read. This makes it a favorite for some of its users compared to other brands. Some users have however complained that the devices hums a little bit too loud for their comfort but takes away nothing from critical issues of accuracy and durability. some have also noted errors on the display in the form of a big "E" when cuff is improperly placed on the arm. This is indeed better than erroneous readings.

Other Related Topics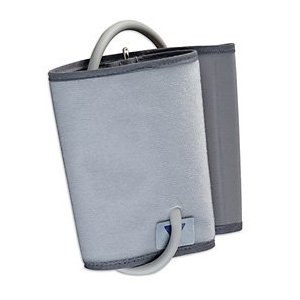 Omron Blood Pressure Cuffs | The Omron blood pressure cuff series consists of different replacement sizes namely large, medium and small. However, not every cuff will work with every model. Cuffs are tired to specific models. Learn More >>>
More Related Topics
| Causes of Hypertension | Hypertension Treatment | Hypertension Diet | Hypertension Symptoms | Hypertension Guidelines | Hypertension Medications | Low Blood Pressure Causes
Return to Hypertesion Home Page from Omron Blood Pressure Monitors


Disclaimer
Information contained on this website is not meant to replace your doctor's advice.
(c) All Rights Reserved. 2010-2018