Blood Pressure Herbs That Work
By Ronnica Mark-Smith
Blood pressure herbs are becoming an important considerations for millions of individuals. There are mixed reasons why more and more people are turning to natural methods of dealing with high blood pressure in particular. Chief amongst these reasons is that fact that most pharmacological drugs available to treat hypertension come along with some known side effects. Blood pressure medication side effects associated with drugs range from mild to severe such as chest pains, swollen limbs and even muscle cramps. Other individuals turn to herbs for blood pressure in an effort to avoid the high cost of some medications for hypertension. Non generic blood pressure medications are particularly expensive and these may simply be out of reach for many people especially those in poorer societies without adequately sponsored government health care system. Yet some individuals are trying out herbs for blood pressure in an effort to unofficially deal with resistant hypertension as well as fluctuating blood pressure.
Garlic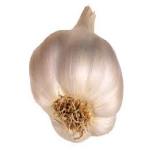 Considered one of the most effective herbs for blood pressure, garlic is also used extensively across the globe for many different purposes. Many people suffering from blood pressure and those seeking to prevent the onset of the disease use natural garlic in their meals. It has been observed that the type of garlic that works is natural garlic compared to certain garlic extracts
sold as supplements. This however does not mean that these extracts are completely useless. Natural garlic can be purchased from your local farmer's market or grown in your back garden for that matter. Some studies have suggested that it is actually the garlic sulphides that are not destroyed by cooking that are beneficial to blood pressure lowering. Garlic is also thought to influence cholesterol levels in a beneficial manner to blood pressure patients. Cholesterol particular LDL also known as bad cholesterol is responsible not only for heart disease but also high blood pressure. There are substantial studies that have been done demonstrating the association between cholesterol and high blood pressure.
Scientifically garlic has been shown to be beneficial in lowering both systolic and diastolic blood pressure numbers. According to a study done in New Orleans the United States involving 9 patients with severe hypertension sitting blood pressure reduced some 5 hours after a dose of garlic. The scientific study concluded that a garlic preparation can reduce blood pressure without any noticeable side effects. Some herb researchers have pointed out that garlic not only reduces high blood pressure it also has an effect of raising blood pressure in patients with low blood pressure effectively working as a blood pressure regulator. Should you have no access to fresh farm garlic you may still consider this list of garlic extracts with reviews.
It is important to note that in as much as garlic maybe useful in dealing with blood pressure, it is also considered among foods that cause bad breath.
Health King Blood Pressure Herb Tea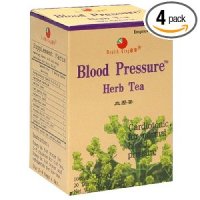 Blood pressure herbs used across the world also include tea in particular the Health King Blood Pressure Herb Tea. This particular herb tea has been used for centuries and can be consumed hot or as iced tea. This tea for high blood pressure is 100 percent natural and comes mostly out of China. It contains rutin and glutamic aci. various patients who have tried the tea have reported very effective results. They note that the tea effectively brings down elevated blood pressure. Some patients have noted that the tea works as a natural diuretic which reduces water retention in body thereby reducing blood pressure. There are other herbs in form of tea for high blood pressure such as hibicus tea reviewed below. You may however read in detail reviews for Health King tea
.
Triple Leaf Blood Pressure Tea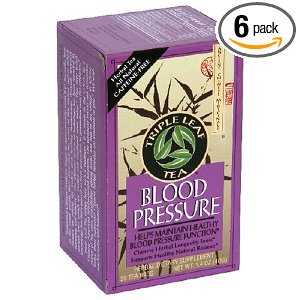 Some people prefer the Triple Leaf blood pressure tea over the one discussed above. This tea has no caffeine and has been used by the Chinese as part of their herbal longevity tonic therapy. It particularly benefits blood pressure function as well as kidneys and liver. This particular blood pressure herb contains ingredients such as eucommia leaf stem, chrysanthemum flower and others. It is important however when taking blood pressure herbs to ensure that they do not contain any ingredients that you may be allergic to. In an attempt to resolve one medical condition it is possible to create a bigger problem due to allergies. Herbs may also cause drug interaction particularly for individuals on other medications. Some buyers of this particular herb from sites such as Amazon
have left mixed experiences with the tea. Some reported effective blood pressure reduction yet some saw no change in their blood pressure. However overall this tea is considered one of the best and effective blood pressure reducing herbs on the market today.
Red Clover Herb For High Blood Pressure
Also a preferred solution amongst other high blood pressure herbs, the Red clover has a rich history crossing continents. It has a wide range of uses including being used as part of other herbal formulas for menopause and even breast enlargement. Red clover particular benefits blood pressure patients as it has the ability to reduce water retention in the body. According to blood pressure definition the volume of blood flowing in the blood vessels is of great importance in as far as blood pressure is concerned. Diuretic type of herbs which helps reduce volume of water in the body are effective in controlling high blood pressure.
Return To Articles On Hypertension from Blood Pressure Herbs


Return To Hypertension Home from Blood Pressure Herbs

Site Map | About Us

(c) All Rights Reserved. 2010-2015