Measuring Blood Pressure Tips
by Tom Puckerman-Baite
Covering measuring blood pressure tips after eating, at home and cuff size.
Blood pressure measuring is an important aspect of blood pressure treatment. How blood pressure is measured determines the diagnosis and the type of treatment a patient will likely receive. When taking blood pressure readings doctors will look for two key readings namely the systolic reading and the diastolic blood pressure numbers. Contrary to what obtained in the past both diastolic and systolic readings are equally important. Most blood pressure equipment which is digital also measures the pulse rate which helps doctors determine any possibility of cardiovascular ailments.
Hypertension institutions which publish hypertension guidelines in different countries recommend blood pressure checks at least once every year for every member of a population. In most cases millions of people walk about hardly knowing their blood pressure status. Regular blood pressure measuring is important because hypertension symptoms usually present when the condition is advanced and having possibly already caused damage to organs. Tips for measuring blood pressure found in this article must be considered carefully as inaccurate blood pressure readings will increase the risk of developing resistant hypertension.
Blood Pressure Measuring Tips At Home And Cuff Size
Right Measuring Equipment
When measuring blood pressure at home it must be noted that one of the most important things is to have the right home blood pressure monitor. Not all monitors will give you excellent results. The technology for home blood pressure taking has dramatically improved in the last two decades making personal blood pressure measurement fairly easy. However even with that, one absolutely needs to have the right monitor. There are known best blood pressure monitors which are clinically tasted and approved by reputable hypertension institutions such as the American Heart Association (AHA).
Such monitors will include the well known Omron blood pressure monitor series which is arguably amongst the best selling monitors in the world. Getting the right monitor in the first place settles the most common source of inaccurate flood pressure results - poor brand monitors. In addition, for best results when carrying out blood pressure measuring at home ensure that you have the correct cuff size. Standard cuff sizes normally measure 9 inch to 13 inch and may not be ideal for people with extra large arms. Extra large cuffs will be necessary.
Too tight a cuff size will inflate your blood pressure numbers. Too big a cuff size will artificially deflate your readings possibly hiding a problem when it actually exists. This will also distort other measurements and detectors such as pulse rate as well as morning hypertension respectively. Tubes and connectors of your equipment also have to be intact when measuring blood pressure at home even at the doctors office or hospital.
Also check your monitor batteries to ensure that they are adequately powering your blood pressure monitor. When carrying out blood pressure measurement at home ensure the following precautions. Depending on your blood pressure monitor brand there could be some additional instructions to be followed apart from the following list;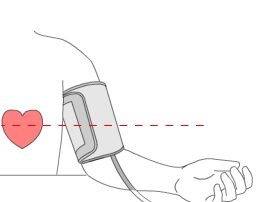 No smoking

, no drinking, bathing or physical exercise 30 minutes prior to measuring your blood pressure at home. These activities and indulgences spike blood pressure which will distort your readings.
Ensure that you are properly seated upright with your feet flat on the floor. No talking, no movements.
Place your cuff at the same level with your heart as shown in the picture. Roll back any tight clothing on your arm that might increase pressure on blood vessels and distort readings.
Take your readings consistently from one arm whichever has the highest reading. Always take from this arm if you are to have comparable results.
Measuring blood pressure at home accurately requires that at least three readings be averaged. These readings are taken within a space of a few minutes. One blood pressure measurement is hardly enough to give the correct status of your blood pressure.
Measuring Blood Pressure After Eating
Blood pressure measuring after eating should particularly be avoided. It has been observed that in particular individuals blood pressure significantly increases 30 minutes after a meal. In some people the systolic reading can increase by as much as 30 mmHg and the diastolic reading by some 20 mmHg. Not only does blood pressure increase, the heart rate also increases considerably. The explanation against measuring blood pressure after eating lies in the activity of the digestive system.
The digestive system will require more blood to carry out its activities thereby depriving other parts of the body of much needed blood. This triggers the heart to work harder to supply the entire body. This raises blood pressure. Blood pressure measuring after eating should occur at least some 2 hours later in order to get the correct undistorted readings which are natural.
Return To Articles On Hypertension from Measuring Blood Pressure


Return To Blood Pressure Home from Measuring Blood Pressure


Disclaimer
Information contained on this website is not meant to replace your doctor's advice.
(c) All Rights Reserved. 2010-2018