Manual Blood Pressure Monitor Review
Covering manual blood pressure monitor reviews of the Omron HEM-432c, Lifesource UA-100 and Samsung BHM-1008
Manual blood pressure machines are more convenient for some users than the automatic digital blood pressure monitors that are available in big numbers on the market today. Manual monitors for hypertension are often interchangeably also known as aneroid monitors. Essentially fully manual blood pressure monitors consist of a dial gauge and a manually inflated cuff that is inflated by squeezing a rubber bulb.
A stethoscope is attached to this type of blood pressure machine. Its purpose is to help the user listen in for heartbeats. Today manufacturers have developed semi-manual and manual monitors. Semi-manual monitors are automated in some respects such as the display of the systolic and diastolic numbers which is often digital. They also often have automatic deflation of the blood pressure cuff only requiring manual inflation.
As presented below the manual blood pressure monitor range is found in brands by Omron, Lifesource, Lumiscope and many others.
Omron HEM-432C Manual Inflation Blood Pressure Monitor Review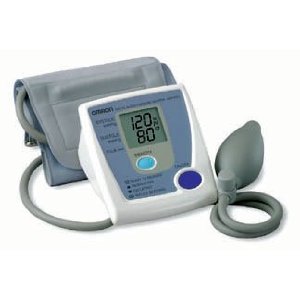 Selling for just about $40.00 online this monitor is considered a manual monitor as it comes with a rubber bulb for cuff inflation. It displays blood pressure and pulse readings within seconds on a large digital panel. The cuff size for this particular monitor fits 9" to 13" arm circumference. Consumers normally buy this manual inflation monitor together with Omron large adult cuff for arm size 13" to 17".
It is generally considered easy to take blood pressure with this monitor. This manual blood pressure monitor stops inflating automatically as you are squeezing the bulb. Aggregated consumer reviews on the product point to the fact that the monitor is comfortable and works well and is recommended by some doctors for home use. The squeezing of the bulb for inflation instead of automatic inflation makes the monitor power efficient making batteries last longer. Much longer that a fully automatic monitor.
Some consumers claim using the monitor for over 2 years with best results at a fair price. Overall the Omron HEM-432C manual blood pressure monitor gets four out of five stars from us based on over 100 aggregated user feedback reviews.
Lifesource UA-100 Aneroid Manual Blood Pressure Monitor Review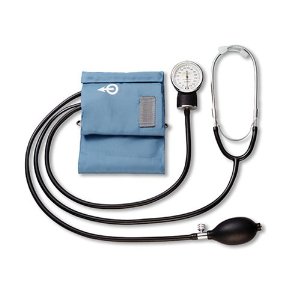 Selling for just below $30.00 on sites such as Amazon. This is a typical fully manual monitor with a dial gauge and stethoscope. It comes with a nylon cuff, latex bulb with a release valve, zippered nylon storage case and a calibration screwdriver. This old fashioned blood pressure equipment is favored by some users because it gives results quickly compared to electronic fully automated monitors that pump and re pumps to reveal a high blood pressure. Some users believe that in their particular cases this manual monitor has helped them avoid white coat syndrome.
It can be however noted that use of this manual blood pressure equipment requires practice and patience until it is mastered. Knowing how to take blood pressure in general is extremely important. Consumers including licensed nursing professionals who have been taking blood pressure for many years praise the accuracy and ease of use of this Lifesource UA-100 manual monitor.
These individuals are impressed by the fact that the average sized adult cuff will comfortably fit most adults. Compared with other models and brands, the Lifesource manual monitor is thought to be of better quality. Some consumers have however complained that the stethoscope is hard to hear with. This often occurs to individuals with hearing problems. We give the Lifesource UA-100
Aneroid manual blood pressure equipment four out of five stars also based on the strength of nearly 20 aggregated consumer reviews. The price for the product is a general thumbs up at just under $30.00 per unit.
Samsung BHM-1008 Manual Blood Pressure Monitor Review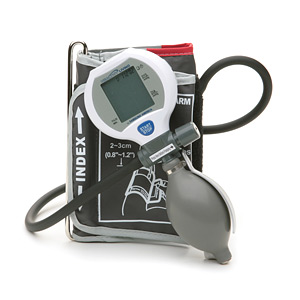 Selling for about $30.00, the BHM-1008 has a rather unique design were the manual inflate bulb is directly attached to the relatively small digital screen. This model of the device is also interchangeably refereed to as Samsung manual Inflate Hand Held monitor for this reason. It has 99 memory recall slots meaning a user can keep track of the last 99 blood pressure numbers with time and date stamp.
It is able to average all these readings to establish your average blood pressure. It has an air release icon informing you when to release any trapped air. A beep marks when to stop pumping. The BHM-1008 is known for its soft arm cuff covering people of up to 13" cuff size. It runs on one CR2032 battery and has generally a 5 year limited warranty.
Despite these impressive function, the monitor has generally received a heating in consumer reviews due to its unreliable and inaccurate readings. Some have noted that this manual blood pressure monitor will start giving ridiculously low readings after 50 checks. The cornerstone of a good blood pressure monitor is accurate readings first and ease of use. Everything else is a bonus. We give Samsung BHM-1008 poor two stars out of five for unreliability and inaccuracy
Return To Blood Pressure Equipment from Manual Blood Pressure Monitor


Return To Blood Pressure Home from Manual Blood Pressure Monitor


Disclaimer
Information contained on this website is not meant to replace your doctor's advice.
(c) All Rights Reserved. 2010-2018