Lumiscope Blood Pressure Monitor Reviews
The Lumiscope blood pressure monitor is amongst the most respected home blood pressure monitors on the market today. It is in the same class and category as the Omron blood pressure monitor, Samsung, Relion and Lifesource blood pressure monitors. The Lumiscope company introduced the first electronic blood pressure monitor for home use in 1978.
The Lumiscope 1157 Upper Arm Deluxe Review
This 1157 Lumiscope blood pressure monitor sells for about $65.00 at Amazon. It displays blood pressure numbers namely systolic and diastolic readings on a digital screen which is back illuminated with a bluish color. It also shows pulse readings which represents your heartbeat. This particular model is unique in the sense that it has an alert indicator which is triggered by blood pressure readings that reach or exceed World Health Organization (WHO) hypertension alerts. This ensures that you will be notified should your blood pressure be exceeding what has been considered safe by hypertension experts.
The monitor has a total of 124 memory recalls. This means the monitor allows you to accurately and safely store 124 of your previous readings with time and date stamp. This enables the user to compare results over a period of time. To arrive at a hypertension diagnosis doctors take a number of measurements at different times which are then averaged. A single reading is never enough to conclude a hypertension condition. This 1157 blood pressure monitor has a built-in storage compartment for the cuff. It has an automatic cuff inflation. Users do not need to squeeze the rubber bulb. In fact it is supplied with no rubber bulb!
This Lumiscope blood pressure monitor requires AA batteries. It however can also use mains power as it comes with an AC adapter. To save power it has an auto-off function. Some users have complained of the monitor drawing batteries too soon sometimes even after just two readings. This suggest that the monitor works best on AC power. However in come cases this can be caused by a faulty monitor itself and not necessarily a problem across the entire model.
Some users have reported excellent performance of the monitor. Users will still however need to know how to take blood pressure in order to get accurate results. It is also necessary to note here that despite the general positive reviews of the monitor, some users on the other hand have complained that sometimes the readings are inconsistent and therefore the device can be unreliable. Readings have been noted to be even 20 to 30 points higher than what the doctor reads with own monitor.
Our overall review of this particular Lumiscope blood pressure monitor is that it is not amongst our list of best blood pressure monitors even though it serves the purpose.
The Lumiscope 1130 Upper Arm Monitor Review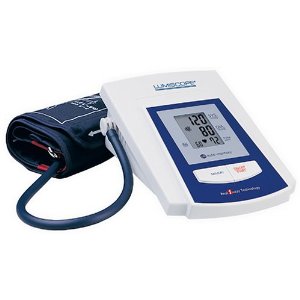 Selling for roughly $50.00 on Amazon the 1130 upper arm monitor is a digital home blood pressure monitor and pulse monitor with auto inflation. Unlike the forgoing 1157 model this particular model has only a 60 memory recall. It has a large display screen showing systolic and diastolic blood pressure numbers. It has a customer preferred one-touch operation and easy fit cuff and carry case.
Generally this Lumiscope blood pressure monitor carries some very positive customer reviews. In particular some users appreciate the memory recall function because it makes it possible to track previous readings. Other users have also noted the monitor's accurate reading capabilities and its portable design. Out of five stars the product receives from us four stars.
The Lumiscope 1103  Semi-Automatic Upper Arm Monitor Review
Selling for about $30.00 online, this monitor is different from the foregoing ones in the sense that it is a semi-automatic monitor. It is suitable for adult users. The monitor leaves the work of manually inflating the cuff to the user. The user manually squeezes the rubber bulb. It however has auto-deflation. It has a nice digital monitor showing date and time. It has a 85 memory recall function. The monitor comes with cuff sizes 8.5" to 14".
Some users have complained about the watch display which displays in military style. We give this particular model a moderate thumbs up and three stars out of possible five stars.
The Lumiscope 1060  Semi-Automatic Upper Arm Monitor Review
Selling for roughly $55.00 on Amazon the 1060 model has been around for sometime. It is considered the doctor's choice due to its accuracy. Like other Lumiscope monitors, this monitor is hospital tested and clinically considered accurate. It is semi-automatic meaning the cuff inflation is done manually by squeezing the rubber inflation bulb. Deflation of the cuff is also automatic. The bulb is a dry natural rubber bulb.
The 1060 has a touch pad control and runs on a single 9V battery. Customer reviews confirm precise measurements, long battery life and easy to use mechanism. Customers also note that this Lumiscope blood pressure monitor has an accurate pulse in addition to accurate systolic and diastolic readings. Some have noted that these readings may vary by plus or minus 2 points against different hospital high-cost professional monitors.
The Lumiscope 1060 has proven to be a doctors favorite due to its accuracy, ease of use, portability and consistent results even when measured against hospital blood pressure machines. We give this particular monitor a five out of five stars. It receives our full endorsement.
Return To Blood Pressure Equipment from Lumiscope Blood Pressure Monitor


Return To Blood Pressure Home from Lumiscope Blood Pressure Monitor


Disclaimer
Information contained on this website is not meant to replace your doctor's advice.
(c) All Rights Reserved. 2010-2018