Wristech Blood Pressure Monitor Review
An independent consumer centered Wristech blood pressure monitor review.
The Wristech BP monitor is in the same league of leading digital blood pressure equipment such as the Omron blood pressure monitors, Microlife blood pressure monitor, Relion blood pressure monitor and Lifesource blood pressure monitor. This article carries some detailed reviews of selected top Wristech blood pressure monitor models. You may also learn how to take blood pressure accurately as you shop for a suitable home blood pressure monitor.
Wristech Blood Pressure Monitor Model JB5237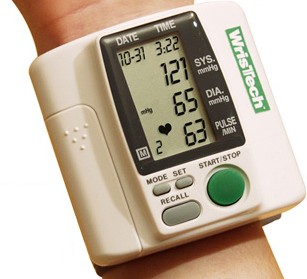 This particular model is known for its compact design which makes it possible and easy to travel with. It slips over your wrist like a watch allowing for a quick blood pressure measurement. The monitor automatically inflates to the correct level at the press of the [green] button to give systolic and diastolic blood pressure readings including pulse rate.
The JB5237 model keeps readings history by remembering the last 99 measurements in its history mode. This product sells online for under $50.00 and can often be found accompanied by huge discounts. It uses AAA Alkaline batteries which are not included and also has an AC Adapter for 6V DC.
Wristech Blood Pressure Monitor JB4630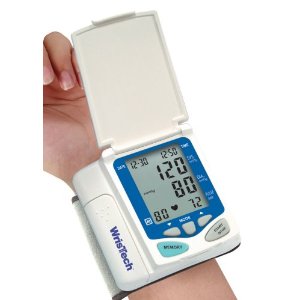 This model JB4630  is FDA approved in the United States and widely advertised selling online for about $25.00. Users who buy this item also normally buy together with a safety leash to save it from loss. This wrist monitor is fully automatic and apart from being FDA approved is also clinically approved.
It has an extra large digital monitor display for viewing systolic and diastolic pressure as well as the pulse rate. The digital monitor is designed for clear easy reading. It can be used by up to three persons with each person receiving 40 memory measurements capable of keeping a history of readings.
Unlike other wrist blood pressure monitors, this model uniquely has a protective opening and closing cover for ease of storage and travel safety. It has some outstanding reviews and ratings from different buyers. It has been praised for ease of use, accuracy and price convenience. It terms of accuracy some buyers have however noted that worrying variances sometimes occur requiring taking mean readings which can be tedious.
The oscillometric method of blood pressure reading dependent upon vibrations of the arteries can be erroneous sometimes especially when the individual suffers from arrhythmia. Arrhythmia is an irregular heartbeat that might beat too fast, too slow, too early or too irregular. For this reason some users have stated their intention not to trust the device beyond a casual indication of one's blood pressure. Some but not all doctors have also condemned the device.
The fact that the device is supplied with no batteries and no case is a put off for some would be buyers even though overall this blood pressure monitor has some outstanding ratings amounting to 4 out of 5 stars of approval and recommendation.
Wristech Blood Pressure Monitor JB3649
Unlike the model JB3649 above, this particular model is supplied with a storage case and AAA batteries. A somewhat correction of the other model. It is fully automatic with easy to use wristband style design with an oscillometric method of determining readings. It has a huge digital display that shows systolic and diastolic blood pressure readings as well as the pulse rate. It's manufacturers include documentation that it is clinically accurate with 99 readings memory to keep track of blood pressure measurement history.
True to this statement independent user reviews have indicated that testing this model against the conventional upper arm cuff monitors the results agreed. This model has also been used just before getting into the doctor's office and results again agreed with the doctor's measurement.
Some users have however complained that the results are unreliable and inaccurate. However, this is the curse of any digital blood pressure monitor. Digital monitors rely heavily on user accuracy in following instructions and doing exactly as they in the user manual. Any short cuts may short-circuit production of accurate and consistent results.
Blood pressure monitoring is important. It helps individuals monitor and manage hypertension as well as monitoring response to particular hypertension medication. Other blood pressure machines particularly the finger blood pressure monitor are also used. The finger monitor has particularly been much of a failure on the market due to issues of inaccuracy and inconsistency. Wrist monitors such as the Wristech blood pressure monitor have remained largely popular coming second after upper arm blood pressure monitors.
Popular Upper Arm Blood Pressure Monitors
ReliOn® Auto Inflate Digital Blood Pressure Monitor | Going for $45.00 at Warlmat the monitor has very good reviews. Customers appreciated its excellent value and reliability including easy set up, easy use and accuracy. Some but fewer users have complained of inaccuracy particularly high systolic readings given by the monitor repeatedly. >>>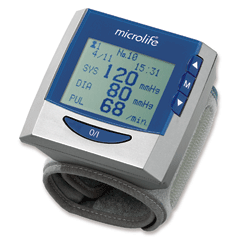 Microlife Wrist BP 3AX1
Consumer reviews have complained of smaller memory than advertised and poor software that fails to connect to PC for data download 90% of the time. However some users have found product to be very easy to use and PC software user friendly. >>>
Lifesource Extra Large Arms UA-789AC
This product is known for its unique accommodation of people with large arms by providing extra large cuffs. It sells on average for $200.00 on Amazon. Lifesource monitors generally enjoy huge customer satisfaction and high approval ratings. >>>

Return to Blood Pressure Equipment From Wristech Blood Pressure Monitor


Return to Hypertension Home Page From Wristech Blood Pressure Monitor


Disclaimer
Information contained on this website is not meant to replace your doctor's advice.
(c) All Rights Reserved. 2010-2018